Episode 103:
Who Leads DEI? DEI Leaders and the Importance of Roles
What You Will Learn:
How a survey of 383 U.S. employers from Xpert HR revealed that only 11% of these employers had Chief DEI Officers leading their Diversity, Equity and Inclusion efforts
Further findings of the Xpert HR survey:
15% had DEI efforts led by volunteer employee groups
17% said no one leads their DEI work
19% said a "social justice workgroup" or board of directors led their efforts
36% responded that it was lead by their CEO
52% said a Chief Human Resources Officer led their efforts
7% said a Chief Operating Officer led their DEI work
5% responded that their Chief Financial Officer led the way
4% said their General Counsel ran their efforts
2% responded that an outside consultant led their DEI efforts
Why General Counsel, the CFO or even the CEO aren't the right people who should be leading Diversity, Equity and Inclusion work, and why it's crucial to appoint the right DEI leaders to oversee your efforts
Why organizations who are truly committed to DEI work should follow best practices and assign an experienced, dedicated Chief DEI Officer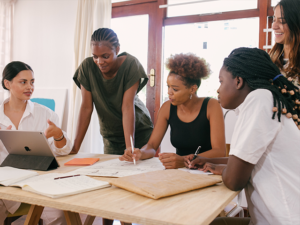 About Sara Taylor
Sara Taylor earned a master's degree in Diversity and Organizational Development from the University of Minnesota. She served as a leadership and diversity specialist at the University of Minnesota for five years and as director of diversity and inclusion for Ramsey County, Minnesota for three years.
Sara is the founder and president of deepSEE Consulting and has worked with companies as large as Coca-Cola, General Mills, 3M Company, AARP, and numerous others. She has a new book, "Filter Shift: How Effective People See the World," that explores how our unconscious is actually making choices and decisions for us, all without our knowing — and how to change that.
Resources:
How to Connect with Sara Taylor: